12-30-2015, 06:38 PM (This post was last modified: 02-06-2016, 03:59 AM by Archon. Edit Reason: added a few things | Added Square payment )
Tickets:
Ticket fees (

$18

a person) are

due by January 5th, 2016

.  Please refer to the spreadsheet for costs on Tickets and Hotel.  Hotel fees are not due for a few more weeks as I'm still locking in a final price.
Please pay me with cash, PayPal or Square.
If I do not receive your ticket payment by January 5th, 2016, your fee is subject to increase.
UPDATE:
I have received everyone's payment.  Thank
you!
Please review this site for all up-to-date information in regards to the LAN.
Shirts:
Please refer to the spreadsheet above to see if I've noted your shirt size, if not, please message me your shirt size.  Please see the sizing chart before giving me your final size.
Sizing Chart:

***UPDATE FROM WES***
Hey everyone I just wanted to send out a quick note about a few different things. For one we are tossing around shirt designs on the forums for the LAN. We will be putting in an order before the end of the month so check it out and post up if you are interested. 
http://lanoc.org/forum/lanoc-v18-march-1...irts#37604
Also we are still looking for tournament suggestions. Remember if you don't suggest it, it won't end up in our vote so you want to make sure to post up what you are interested in. 
http://lanoc.org/forum/lanoc-v18-march-1...uggestions
Voting will go out soon, here is the tentative schedule of things 
2/12/16 Tournament Voting emails go out
2/22/16 Tournament Voting ends
2/23/16 Tournaments Announced
3/3/16 Registration lockdown for ordering name badges (usernames need to be correct at this point)
3/19/16 10am Lan Starts
Also when sending out this email I saw a LOT of people with the same emails. When I send out the tournament votes it will be using the email you have for each person on LANReg. If you registered a friend make sure their email is inputted to make sure they get a vote. We don't want people to miss out on the vote and then be upset at the games that win. 
Thats it for now, hope I'm not bothering you. Looking forward to seeing everyone at the LAN. Remember to keep an eye on the forums and our Facebook event page. Sponsors and other announcements will start getting posted very soon. If anyone is looking to game this weekend feel free to jump on our TeamSpeak server with your friends at ts.lanoc.org. 

----------------------------------------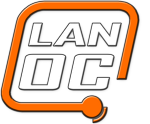 Wes Compton
Editor-in-Chief
LanOC Reviews
http://lanoc.org
MSN/Skype: wes@lanoc.org
Phone: 419-605-0828
@LanOC_Reviews
Google Plus
Our Facebook Page
-Archon, CIO